Posted by Diana Martin In:
art
,
canvas
,
Christmas
,
drawing
,
hand made
,
inspiration
,
mixed media
,
painting
,
petite doll
,
tutorial
,
walk through
Continuing on from the last post.... A canvas for my niece Miss C.

For this post I want to concentrate on adding highlights to the canvas and touching up any area's that I thought needed that little bit extra.


I just want to jump in here and talk about the differences in the two photos above.

Adding Highlights:
There are quite a few products out there such as iridescent paints like Jo Sonja's
Iridescent Colors
that you can use for highlights on your canvas. I did find another one called
FW Pearlescent
but I haven't tried this one yet. I chose to use an Iridescent Gel by a French company called
Pébéo. You can mix this gel with almost any acrylic color to give it a
pearlized or iridescent effect or it can be used alone which is what I did. It goes onto the canvas as an off white color but when it's dry it becomes more
iridescent.
In the top photo you can see that the gel is quite gold and add's real depth in the cracks but compare it to the next photo from a different angle and the appearance changes. I chose to use some brush strokes (you can really notice this in the second photo) to apply the gel in some places as well as using my finger to blend out the edges in other sections of the canvas.
Here is an excellent example of the difference between adding highlights and leaving them out.
Notice how much depth the top photo has compared to the bottom photo which has no highlights. Amazing isn't it!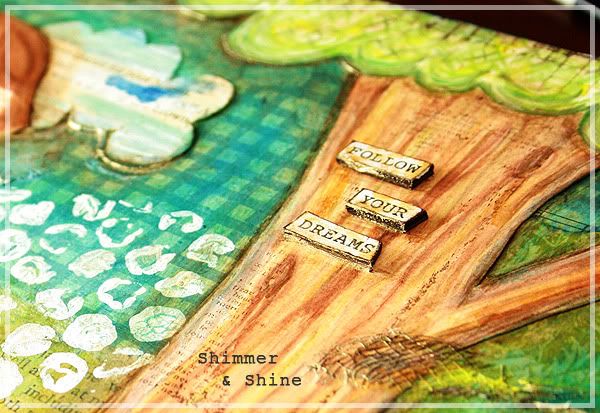 More Highlights: I used my brush and my finger to add more highlights and depth to various parts of my canvas paying close attention to the raised up area's left by using texture paste and gesso. Most of the time I choose to use gesso instead of white paint as most of the time I like to add another layer. With gesso being a primer it's perfect for me to add layers over it and build them up if I want to.

Shimmer & Shine: In the last photo you can just see the area's that have highlight's as they shimmer and shine from different angles. You can see that I have added the iridescent gel to the bottom of the tree's canopy, around the bottom of the cloud, underneath the word bits and a little in the grooves of the gauze.

The Sides: I only added light touches to the sides of my canvas such as adding more dark blue slightly watered down and blended it in well with my fingers. A few raw umber accents on the tree trunk and along the edges of the green spotted paper.

Guess what.....we are about to go onto the last stage of how I completed this canvas and this part is loads of fun! See you back here tomorrow for the last part of my mixed media canvas for my sweet niece Miss C.
CREATIVE MESS = ART xxoo


This entry was posted on Saturday, November 28, 2009 and is filed under art , canvas , Christmas , drawing , hand made , inspiration , mixed media , painting , petite doll , tutorial , walk through . You can follow any responses to this entry through the RSS 2.0 feed. You can leave a response, or trackback from your own site.