Posted by Diana Martin In:
art
,
canvas
,
Christmas
,
drawing
,
hand made
,
inspiration
,
mixed media
,
painting
,
petite doll
,
tim holtz
,
tutorial
,
walk through
Continuing on from the last post.... A canvas for my niece Miss C.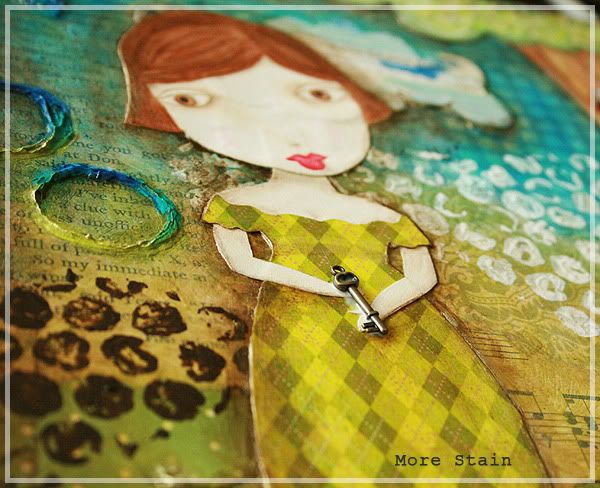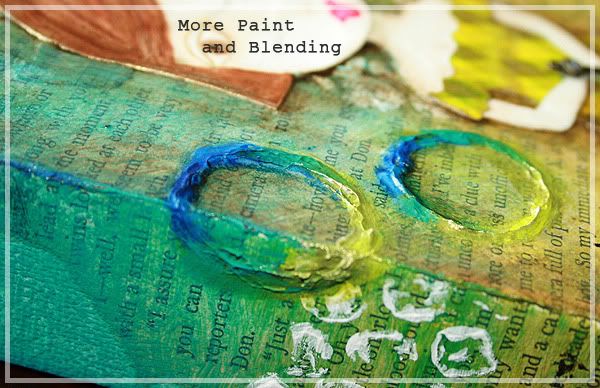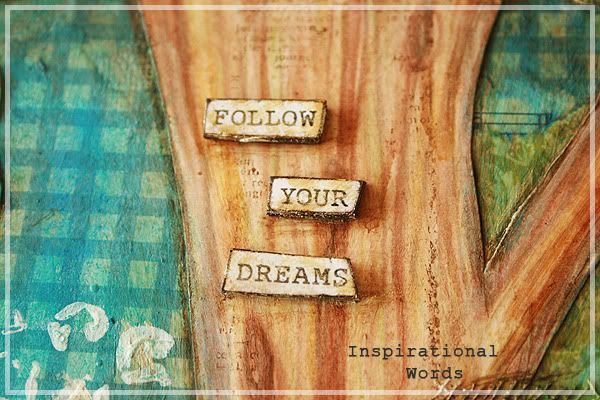 Stain Around the Doll: Now that the canvas is completely dry after adding the doll, I made up another mixture of a small amount of raw umber and loads of gel medium and added a stain around the doll making sure I didn't get any on the dolls face.

More Painting and Blending: Seeing that the canvas dried for a full 24 hours, I noticed some area's needed a little more definition so I added some more undiluted acrylic paint to the texture paste circles I created in a previous step (part 3). Remember to blend your colors so they flow seamlessly from one color to the next. I added some of the stain I used for around the doll, into the inside of the circles using my finger to blend it in to create even more shadow and depth. Notice in the above photo how the top of the circles look much higher than the rest of the circle.

Inspirational Words:
I wanted to make sure that the words or phrase I used tied the whole canvas together and I definitely wanted something that a teenager would/could relate to hence the words 'FOLLOW YOUR DREAMS'. I adhered the printed words onto a thick layer of chipboard, inked the edges with my favorite color ink
Pinecone
then adhered them to another layer of chipboard and inked again. I added some distress ink
Antique Linen
over the top of the words to dull the white of the photo paper the words were printed on.
Add Embellishments:
Time to break out some of my favorite scrapbooking supplies. I always find somewhere to add a little
7 Gypsies key
. I HEART keys! A key says to me "You hold the key to unlock...." (insert so many different words and phrases that the key can represent to you). I also added some ribbon trim to the dress to make her look even prettier and a tiny little jeweled heart on her chest. I really had an urge to add a bookplate, another one of my favorite embellishments but as they say 'less is more' even though that only works some of the time in my opinion...lol! So I left the bookplate off, it really had no place on this canvas, maybe if I had used a single word I could have used a bookplate. I am happy with the result any way.
We are finally nearing the end now and I am starting to get excited to see the finished product. More photos and guides tomorrow.

CREATE OUT OF YOUR COMFORT ZONE... You won't regret it! xxoo

This entry was posted on Friday, November 27, 2009 and is filed under art , canvas , Christmas , drawing , hand made , inspiration , mixed media , painting , petite doll , tim holtz , tutorial , walk through . You can follow any responses to this entry through the RSS 2.0 feed. You can leave a response, or trackback from your own site.