Posted by Diana Martin In:
art
,
canvas
,
Christmas
,
drawing
,
hand made
,
inspiration
,
mixed media
,
painting
,
petite doll
,
tutorial
,
walk through
Continuing on from the last post.... A canvas for my niece Miss C.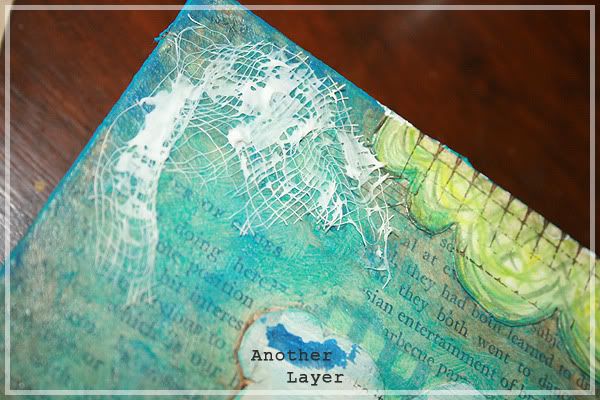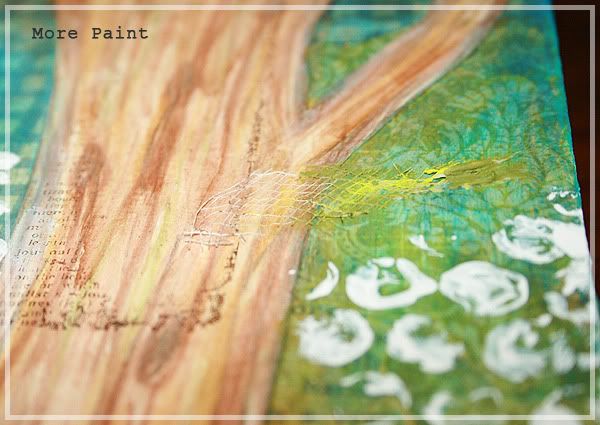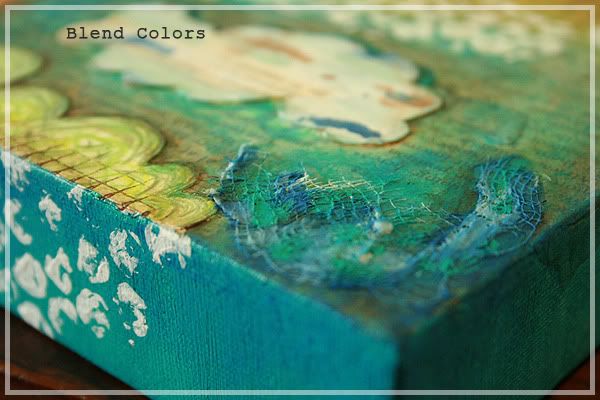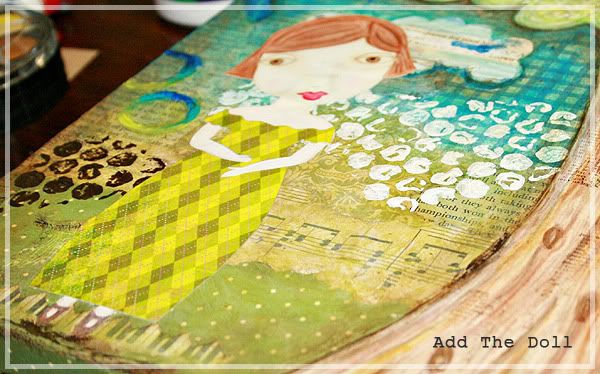 Another Layer: Building up layers on your canvas can really give it dimension so on with another layer. This time I have used gauze to build up some layers using matte medium to adhere it and some texture paste over the top.

More Paint:
I have added some paint to the texture paste and gauze with acrylic paints. No need to add any gel medium as we want thick full color now. I added small amounts of paint to the edge of the tree, the tree's knots, under her feet, a little under the tree top and some around the bottom of the cloud to emphasize the depth and shadow.
Blend The Colors:
I made sure that I continued to blend the undiluted paints. It helped if I just dipped the tip of my brush into gel medium and mixed it roughly in between the colors I wanted to blend. If the paint is starting to get transparent, use a tiny amount of water to blend the colors.
Add The Doll:
It's finally time to add my petite doll. Making sure my canvas was dry in the area I wanted to place her, I used lots of matte medium to adhere her to the page. I made sure all her sides were stuck down well by adding a good layer of matte medium over the doll as well making sure I didn't go over her face too many times. I left the canvas to dry for a complete 24 hours before I started on it again.
Quite a long process but it is so worth it in the end. This isn't my first petite doll/mixed media canvas and I have learned by my mistakes. On my very first canvas in one of
Suzi's
classes, I totally rushed the beginning stage of staining with the raw umber mixture and the result was horrible. Well the girl's and Mum liked it but I don't like it. The doll had such a pretty little face too. I just added another notch on my learning curve.
Back tomorrow with another part of the process!
Play Nice xxoo
This entry was posted on Thursday, November 26, 2009 and is filed under art , canvas , Christmas , drawing , hand made , inspiration , mixed media , painting , petite doll , tutorial , walk through . You can follow any responses to this entry through the RSS 2.0 feed. You can leave a response, or trackback from your own site.