We love Australia Day here in Australia. We spend the public holiday celebrating in so many different ways. Today we will be having a barbie (BBQ) with a few snags (sausages) and a tinny or two (a can of beer...lol)! We fly our flags high with Aussie pride, even on our cars!


On to some creative goodness..... I actually made this last year at the beginning of December but it was sitting against the wall until I was able to find some trim or ribbon I like to go around the edges. It is finally up on the wall now and I just love looking at it when we come and go through the front door.
As you can sort of see I have a hall stand at the front door. I found it at a furniture store very cheap as the mirror had been smashed so they took a large chunk of money off it. I was planning on putting a mirror back in but never got around to it (so glad I didn't now). I thought it would be the perfect place for the magnet board. I use the House of 3
digital project kit
for the months and the dates. I used my House of 3 House
Warming kit
to print the frame out and add some mirror paper to the inside of the frame. Similar to the one I made for my house warming album
here
.
I simply purchased a cheap
magnetic board
from my local office supply store with some plain brown wrapping paper to cover the board with. I went with the brown wrapping paper is it's really thin, perfect thickness for the magnets to still stick to the board. I used a bunch of stamps from my
Kenner Road
kits and some from one of Tim Holtz's collections
here
. I also used Tim Holtz's
distressing inks
to stamp them onto the brown paper and used a blending tool to ink the edges of the paper.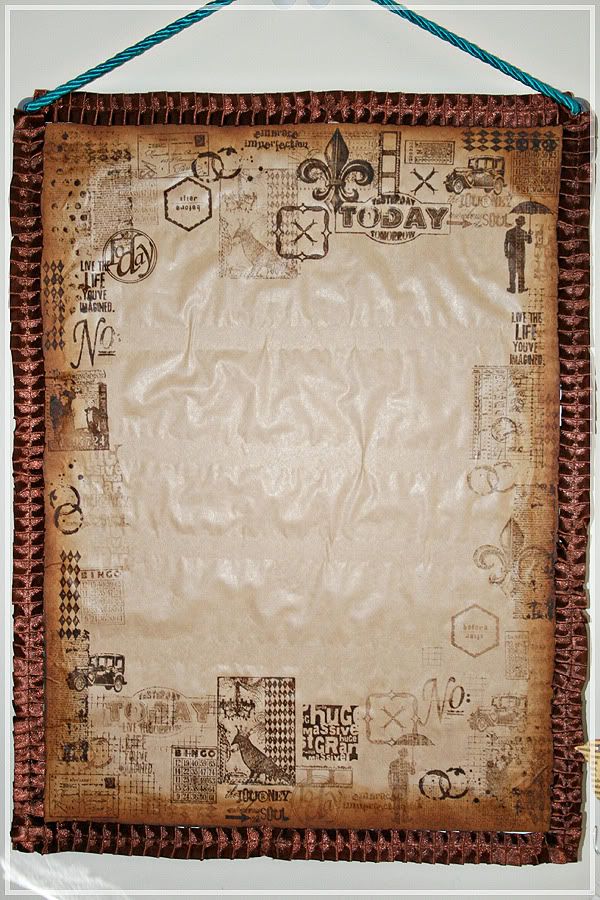 I was inspired by Heidi Swapps
notepad
she made for her magnet board so I made a similar little notepad. I used a gorgeous teal Prima flower and added a gorgeous crystal Christmas decoration to it and stuck a magnet on the back of it.
I cut a piece of muslin, inked and frayed the edges, added a
Kenner Road
stamp and a vintage photo from Old School (August '09), added some hand embroidery with pearls, leaves and glass hearts, and added a hand drawn bird on canvas stuck onto some chipboard and added some vintage trim from my stash as well as some teal trim from We R Memory Keepers. I then attached all this to a vintage paper bag that I received with some free goodies from
Blue Bazzar
. I inked the edges of the paper bag as well to give it a more aged appearance.
I printed out the
Hof3
months and dates and inked all the edges, attached some beads and wire to some of the dates and hung them from a magnetic clip with an album ring to hold the dates.
I took another vintage photo from
KR
kit Old School '09 and hand sewed around the edges, added some vintage trim from the same
KR
kit and threaded the trim with some teal embroidery thread with wooden beads in every second loop. I simply added a Prima butterfly with a magnet on the back to hand it from the board.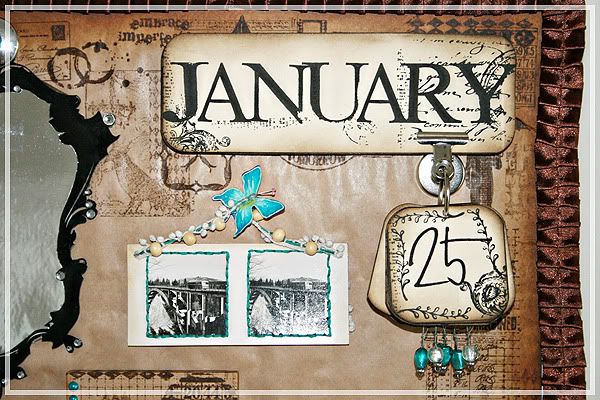 Lastly I took an small old frame I found in my stash and covered it with the brown paper with more
TH
and
KR
stamps and added some little teal pearls from Kaisercraft. I inserted a photo of the girls inside and added a little word bit I made in Photoshop, "You are loved". I found a gorgeous teal 'Paris' broach and added a magnet on the back of it and added it to the board.
Well that's pretty much the basics of how I put my magnet board together. The things that I constantly look for are all in the same place now. A writing pad, the bills that need paying, what the date is...lol and a cute little photo of my two girls that I can smile at every day!

In the first photo you can see another creation in the bottom right hand corner that is ALL Kenner Road goodness that was a project kit in November '09. I seriously had so much fun making this
Tannenbaum tree
. I even added some of my own creations to the tree. It got so many comments from friends and family that came over. Mind you I still have it on the hall stand. I think I am going to leave it there for now as I have an idea of how I can re-use the little tree hanging thingys........when I get a chance that is......I have a deadline for a very exciting project coming up on March 1st. Can't wait to tell you more...lol!
Happy, creative Australia Day!!!

This entry was posted on Tuesday, January 26, 2010 and is filed under hand made , Hof3 , hybrid , ink , inspiration , Kenner Road , scrapbooking , stamps , tim holtz , TTV . You can follow any responses to this entry through the RSS 2.0 feed. You can leave a response, or trackback from your own site.