We all love a good giveaway and I am totally loving the tote bag giveaway by Roben-Marie Smith!!

Here's a little snippet about Roben-Marie from her website:


" Roben-Marie Smith might still be plugging away as a public relations consultant, had the charm of mixed-media collage not lured her away a decade ago. Instead, she spends sun-filled days enjoying the panoramic view from her Port Orange, Florida, studio, surrounded by paint, glazes, papers, ephemera, and rubber stamps from her own artsy line, Paperbag Studios. A third grade blue ribbon in art ignited the initial creative spark, leading to diverse childhood crafting endeavors, including making stuffed animals and Christmas ornaments.
Roben-Marie draws much of her inspiration from the art materials themselves, creating her own markings with lids, sticks, and other serendipitous tools. She thrives on making and working in art journals, which she considers individual collages, and she keeps a tape recorder on her nightstand for those pre-slumber muse visits. "


Roben-Marie is giving away this gorgeous tote bag she created for Stampington on her blog: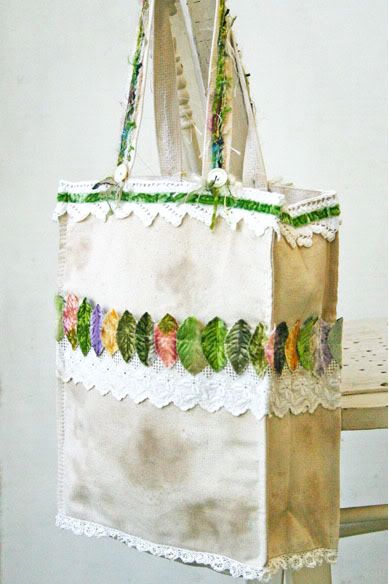 Be sure to check out her video on how she created the tote! For more details on how you can win this beautiful tote, check out her blog post

HERE

. The giveaway runs ends on Sunday May 16 @ 5:00pm EST.....good luck!!