Strange title huh........?

I am so excited......I won an online class with May Flaum over at Big Picture Scrapbooking from the Studio Calico Sneak Night Giveaway!

The class looks amazing and runs for 6 weeks.....wow! Here is a little snippet about the class: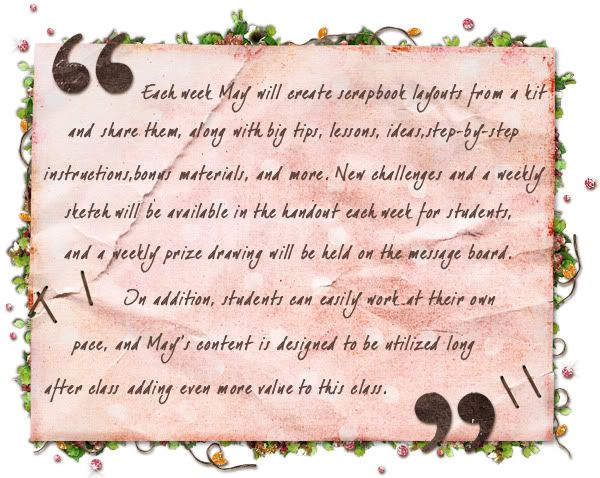 You can read more about the class here. I can't wait to take this class, it looks like so much fun and I am always willing to learn new tricks to help improve my story telling and sharing.

As most of you know I am a huge, huge fan of Kenner Road kit club
and a subscriber. It took a lot of research and looking around at all the different kit clubs that are on offer online. At first I ooohhhhed and aaahhhhed at all the gorgeous goodies on offer. I wanted every kit I looked at. I had to take a step back and ask myself a few key questions about what I wanted from a kit and what was important to me.
Firstly, I considered the price of the kit and it's shipping cost. This was quite important to me as shipping from the US to Australia can be quite expensive.
What did I want from a kit club? I love all types of vintage goodness as well as the hottest new products on the market.
What sort of inspiration does the design team and site offer and can I learn new techniques to help me grow and evolve as an artist?
As you can see from above, my three main points of interest can be broken down to
cost
,
quality
and
inspiration
.The kit club had to be affordable to me, it had to supply quality goods and items that I would definitely use as well as having loads of inspiration that would help me use my kit, give me idea's and teach me new tricks. The kit club really had to suit my style as an artist but not constrict me at the same time.
I did do a few one-time purchases to help me make my final decision and I was quite happy with them but they just did not speak to me. Nothing jumped out at me and said "C R E A T E"!
I also watched numerous kit clubs over a few months so I could make sure they would deliver the same product they were known for, every time. This is what made my final decision in the end.
I really look forward to May's class and any new idea's she will have on utilizing my
KR
kit!
Creative hugs all around! xo