Just a quick post today! Promise....lol! I just wanted to share my happiness! During my travels around blogland, I usually always enter any competition that offers a freebie, "you gotta be in it to win it" as they say. Well yesterday whilst I was sitting at my PC having my morning coffee and checking my feeds, I came across this....

our first 5 winners...

congrats to the first 5 winners from yesterday's post! your comments have been overwhelming to read - thank you so much for all of the kind words and i'm glad you're as excited about all of the new additions to the website. it's funny how many people thought i was done and moving to disneyland - someday! all of the demo videos are now uploaded and ready to watch, just click the demo section in the website to watch them all. be sure to post a comment on today's post for your chance to win some great ranger, idea-ology, or stampers anonymous stuff - remember 5 winners are selected each day so you can post each day to try to win....good luck - t!m

*winners: please email me your contact info to get your prizes set out - congrats!

How exciting Tim!!! You must be over the moon! Love the new product section, it's so easy to navigate through everything. I love being able to see the stamps up close, all the fine little details. Stunning. As soon as I saw your feed, I called my 60 year old mother (yes, she is a huge fan. You should see her go to work on some brads or grungeboard with your texture hammer, lucky she doesn't carry it around in her bag!!!! LOL) to tell her you had posted some new vid's, she's very excited to watch them in the morning as it's a bit late for her now. Any how congrats on the new look website (looks awesome sherryl!)off to watch some vid's ;c)
Posted by: Didee | March 01, 2009 at 01:53 AM

...that's right, I actually won something! I'm not sure what yet, but if it has Tim Holts' name on it, I don't care! Who doesn't love a surprise being sent to you via snail mail. Then this morning, doing my same routine, coffee, PC, feeds, I came across this...


Flower Patch Winner

Thank you to everyone who submitted a comment yesterday. We picked one random winner who will be receiving Making Memories' Flower Patch Embellishment Box.

Congratulations to Didee - the winner!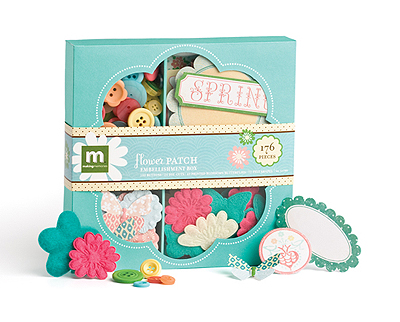 Please email me (jweston@makingmemories.com) to redeem your prize.


Can you believe it??? I sure can't. But I am over the moon though. So take the time to enter those competitions during your travels, you never know it could be your turn next. xo